Course
The Parade starts at 7pm.
Click image to enlarge.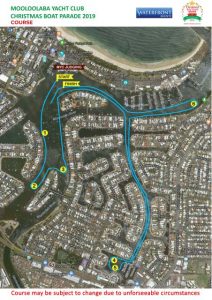 Christmas Boat Parade Spectator Checklist
Donate to Rosies – Friends On The Street look out for the Rosie's team in RED.
Dress up and win – prizes for best dress boy girl at each vantage point – Charles Clarke Park, The Wharf, Penny Lane and La Balsa.
Vote for your favourite boat for the people's choice award for your chance to win a seal swim from SEA LIFE Sunshine Coast Aquarium.
Pass on the love- share, share and share some more!
Safety
Everyone participating please note –
SAFETY TIP 1 – As there will be a number of small craft participating in the Parade, ensure you keep a good look out for all craft.
SAFETY TIP 2 – There is a tight corner at Kawana (at the end of the main canal) and caution needs to be observed with incoming and outgoing vessels. You may need to vary your speed to ensure safe passing.
If you have a question, please contact the MYC office on 0413 227 013 or via Channel VHF 77 on the night.
The Water Police will be there during the Parade. Please ensure you observe –
The rules of the 'road' and passing boats;
Safe handling of your boat;
Carry sufficient life jackets for all on board;
Use your navigation lights; and
Don't Drink and Drive !
In the event the Water Police or Coast Guard depart the above course due to operational reasons, continue to follow the MYC lead vessel.